CTV Gaming vs Traditional Consoles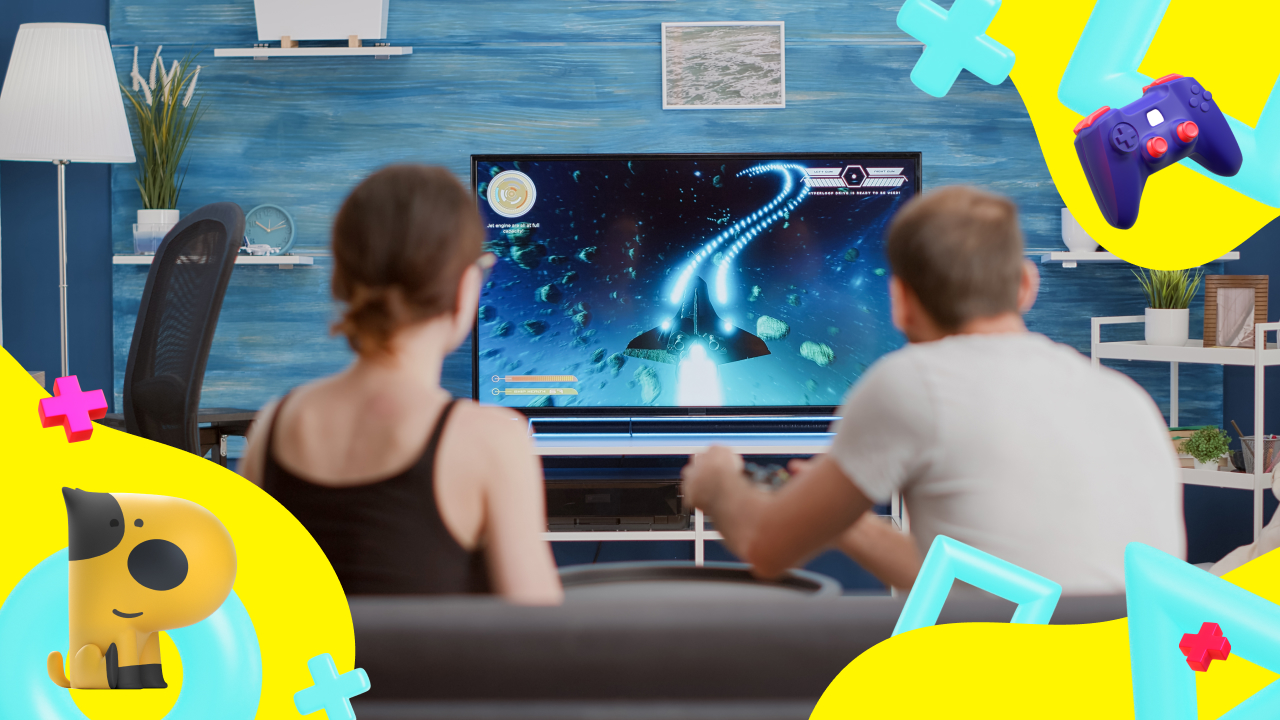 In the rapidly changing media landscape, there have been profound changes in the way we consume content. One of the most significant developments has been the integration of gaming into connected television (CTV). As this form of media continues to advance and connectivity via CTV devices becomes ubiquitous, gaming has emerged as a dynamic and lucrative market for both content providers and consumers alike.
From the convergence of traditional television and gaming consoles to the integration of interactive gaming experiences within intelligent TVs a new model for immersive entertainment has arrived. The combination of gaming and connected television has opened up great opportunities for content creators, developers, and distributors. Gaming producers are already shifting their focus to CTV by tapping into the very large user base of smart TVs, creating accessible and engaging experiences without the need for gaming consoles, and this tendency is only set to increase.
The Current State of CTV Gaming
The video game industry has amassed a very wide  player base, with approximately 227 million Americans already engaged.  The largest demographic of gamers are aged  between 18 and 34, a figure that has barely changed over the decades. In 2021, the global video game industry achieved annual revenue of $180.3 billion, marking a 1.4% increase from the previous year; growth that can be attributed to the industry's exceptional expansion during the pandemic.
If the industry follows this  pattern of progressive growth then global market revenue could surpass $510 billion by 2031. Of course, historically speaking, this is primarily due to the advent of mobiles and consoles that have made gaming more accessible to a wider audience, but other  recent technological advances like CTV devices are providing more options to media consumers. There is immense potential for growth, innovation and profit, but are video game developers taking advantage of this  potential, and are users  ready to move from console gaming to CTV-based consumption?
We have to delve deeper into the present state of gaming in the CTV industry and its rise from relative obscurity to its current potential, why it offers a number of advantages over console gaming, and consider its longer-term future. Consumers are more open to adopting new media than ever before, making this an ideal environment for creators. Let's take a look in more detail by starting with an overview of the current CTV market.
CTV Represents a High-Performance Market
More than 70% of households  in the United States, as well as in many other countries use CTV devices in their homes. This has brought this form of gaming to new audiences that would have otherwise been unaware of it, groups such as  families with young children and older relatives, all living under one roof.
Increased adoption and demand subsequently led to an explosion in the number of CTV apps being published on a variety of platforms, including those created by giants like Roku, Amazon and Apple. On the latter's service, for example,  there are nearly 20,000 apps of which 1,300 are free and 1,200 are paid games, with gaming representing the service's fourth most popular category. Other CTV device services are increasing the number of their games too.
This shift in focus towards gaming on CTV platforms underscores the increasing popularity and demand for playing experiences on the big screen. Up to 95% of Generation Z play video games on a regular basis, and nearly 70% of CTV content consumers do the same, with higher figures recorded for both zoomers and millennials. If you were to look at a graph of CTV uptake and interest in video games amongst these chorots you'd see that both lines are heading in one direction; Exponentially upward.
As more households embrace smart TVs, and at least 83% of Americans already have at least one in their homes, the opportunity for immersive gaming on CTVs is expanding, enabling players to enjoy a diverse range of titles and genres from the comfort of their living rooms. The availability of both free and paid ensures that the market ecosystem is healthy, with a wide range of choices for the consumer.
However, despite the popularity of CTV, and even though gaming apps are growing in demand, there is still some reluctance among developers to create games for CTV. They often view mobile games, and especially console gaming, as a safer bet as they're well-established with a substantial customer base. This caution, though understandable, feels unwarranted and there are many reasons why game developers should focus their attention on CTV and not just on console gaming.
Three Reasons Why Gaming Developers Are Concentrating on CTV
It can be difficult to persuade media consumers to make the decision to adopt new technology, even if (paradoxically) they're already using it to some degree. Millions of them already use CTV devices as we've covered, and many more consistently enjoy console gaming, yet some are still reluctant to utilize CTV gaming. Let's examine the reasons why they should.
CTV Gaming Offers Seamless Enjoyment and Sharing of Achievements
CTV gaming can equal or even surpass console gaming when it comes to providing a high-quality user experience. While console games often require a slow build-up, those for CTV provide a quick dopamine hit as they're easy to log on to, enjoy a quick game on, and then log off when the gamer feels satisfied.
With its simple integration into smart TVs, gamers can dive into their favorite titles without the need for additional hardware or complex setup processes. This convenience allows players to indulge at any time, in almost any place, in a manner of their choosing, which is particularly beneficial to people with accessibility issues.
In contrast, console gaming often comes with the burden of setup and additional external units, hindering the accessibility of the playing experience. CTV gaming eliminates these barriers, providing a user-friendly interface that seamlessly integrates with smart TVs, granting players a hassle-free way to jump right into the action.
The Vibrant CTV Gaming Community Surpasses Console Gaming
When it comes to the gaming population, CTV gaming seems to offer a more vibrant and inclusive environment. While playing on a console enables social interaction, the CTV gaming collective provides unparalleled accessibility, thanks to the widespread use of smart TVs. This convenience transcends geographical boundaries and device limitations, offering users a diverse and inclusive culture.
Additionally, CTV offers an extensive range of games catering to various interests, allowing players to explore their unique preferences and discover new playing experiences. In contrast, console gaming often revolves around a limited number of dominant titles, leaving less room for niche communities to thrive. CTV's diverse library ensures that players have access to a wide variety of games and genres, promoting not just a sense of belonging but also a range of options within that group.
CTV Gaming Provides a Relaxing and Guilt-Free Experience
When it comes to enjoyment, CTV gaming is a great medium that many users find surpasses console entertainment in providing guilt-free indulgence and relaxation. As we've mentioned, it offers a varied range of games that cater to almost any guilty pleasure you might want to indulge in. With its intuitive design, finding that exact game to satisfy your needs takes just a minute to find.
Console gaming is often seen by many people as lacking social acceptability by being unproductive. CTV gaming, however, provides a more legitimate outlet for users to relax without the same degree of judgment. By offering a wide variety of games that cater to individual preferences, it allows players to easily follow their preferences.
One form of contest that includes all three factors is Crazino; a social casino game that provides all the excitement of a real casino without the financial risk. You can play multiple levels that will give you an instant solution, perfect for when you're at a loose end, waiting for an appointment, or whenever you have free time. Moreover, players can share their wins with the wider gaming community to feel more connected to other like minded people.
The Future of CTV Gaming
The CTV gaming market is full of potential.  According to some forecasts, the ownership of smart TVs will surpass 50% of households worldwide by the year 2026. By the same year, the total amount of ad spending is likely to reach over $5 billion, with outlay  on CTV gaming to reach  over $2 billion. This is due in no small part to the 'plethora of ad solutions on   gaming channels  – including native in-game formats and programmatic buying.'
With the growing popularity of CTV, being met by the increased international uptake of smart TVs as more economies develop, combined with the emergence of new technologies like augmented/virtual reality, CTV gaming is set for a bright future. Its popularity among consumers and profitability for advertisers make it a viable alternative to playing on consoles, and is one that developers should focus more of their attention on. CTV gaming should no longer be viewed as a risky niche sector; instead, it really needs to be seen as a viable and profitable platform for developers to create content for.